RAJA Projects warehouse mezzanine provides a low-cost, flexible option for maximizing on your business's existing floor space. Available in single or multi-tier options, our range of mezzanine flooring is incredibly versatile as each floor is individually designed to suit the size and shape of the space available. They can be used in any environment, including warehouses, storage units, production areas, offices or retail locations.
We also stock a range of additional items to suit your floor layout including staircases, pallet gates and handrail/edge protection. For your ease of mind, all RAJA Projects warehouse mezzanine floors are manufactured to conform to current British Standards and regulations.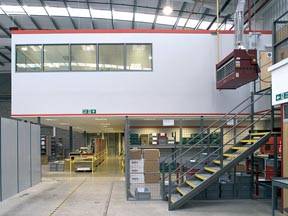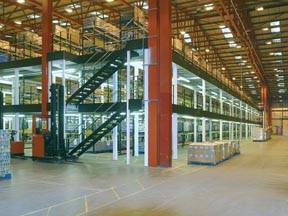 ---
Fire Protection
As part of your mezzanine floor installation, we'll also advise whether fire protection is necessary. This will be based on your current guidelines and if we deem it necessary, we'll add this on to your installation quote. It's important to remember that requirements for fire protection are governed by fire regulations, therefore as a business owner, it's your responsibility to ensure these are adhered to.
Building Regulations
To make things easier for you and your business, RAJA Projects can apply to the local authority for required building regulations on your behalf. This is included as part of your mezzanine floor installation and will free up your time to concentrate on the important task of running your business instead.
Additional Services
If you're concerned about the space available in your workplace, we can help with that. RAJA Projects are able to offer assistance and help utilise the space created by your new warehouse mezzanine floor. During your site visit, we'll take the time to discuss your requirements fully and find out what you want to achieve with the space. We can also offer quotations for a variety of products, including shelving and racking, storage and partitioning. So, if you're looking to create anything from a small production workshop to a fully functioning office, RAJA Projects can provide a practical solution.
How can we help you?
RAJA Workplace offer a no obligation site survey service, carried out by one of our skilled and experienced regional technical representatives. This enables us to discuss your objectives for your mezzanine floor installation and apply our knowledge to create a proposal which best suits your needs. After your site survey, we will then provide a thorough and detailed quotation, with an appropriate layout drawing for your consideration. If you have any further queries or concerns, we are happy to return to the site as much as you need.
Want to find out more about our mezzanine floor installations? Call us now on 0800 954 9001 to discuss your requirements and arrange a no obligation site survey.
Alternatively, if you already know what you're looking for fill out our online quote request and we'll reply back within 24 hours.
---