RAJA Projects office partition systems are the ideal way to divide an area or create new layouts in existing buildings. It is cost-effective, easy to install and allows your business to make the most of the space available.
Fully-flexible and bespoke to you, our office partition systems have unlimited configurations and uses, with options to suit all requirements. It can help save you money too, as it gives you the flexibility to create a custom workplace, without the expenses of moving to a new location or costly building fees. As an added benefit, office partition installation can also provide soundproofing, security and privacy to previously open plan locations.
Where can office partition systems be installed?
Quite simply, anywhere - factories, warehouses, production areas, commercial offices and classrooms can all be divided with our innovative office partition systems. A few examples of its wide variety of uses are as follows:
Creating a secure work or storage area
Enclosing a Quality Control Department
Accommodating additional personnel
Sectioning off production and/or machinery
How does office partition installation work?
Our wide range of partitioning includes an assortment of modular systems, each comprising a small number of key components to match your business's unique requirements. We have both standard and bespoke panels, ensuring that any size and height can be achieved. And, for added privacy, all systems can be enclosed by adding a ceiling to create a quiet, standalone workplace.
Once you've chosen your custom layout, we'll then arrange office partition installation. If you want to change your layout once it's been installed, or you need to alter it to adjust to the needs of your business, it can be easily and efficiently expanded or altered as required.
What options are available?
Our versatile range of warehouse and office partitioning has a huge variety of options to suit every environment, scale and budget.
Single skin partitioning
Single skin partitioning is practical and cost-effective, making it particularly suitable for industrial applications such as dividing walls in warehouses and factories, or creating secure areas or production environments.
This workplace partitioning system is quick and easy to construct and features a comprehensive selection of single, double and sliding doors, all of which can be fitted with interlocks and most other types of locks and latches for added security.
The glazed panels are fitted with laminated safety glass during the manufacturing process, ensuring an exact fit. Additionally, our single skin partitioning panels are bolted to the floor, meaning that they have the benefit of being demountable and relocatable with minimum effort.
To suit your business's individual requirements, our single skin partitioning panels come in a wide array of width and height options, with the addition of bespoke panels to ensure all size requirements – up to 15m high – are catered for.
Single skin partitioning is available in various vertical elevations, including:
All solid steel
All weld mesh
Half steel, half weld mesh
Half solid, part glass, part steel (above glass)
Our workplace partitioning is finished in high-quality epoxy powder coating, available in a choice of standard colours (with other colours available on request), ensuring that it will blend in seamlessly with your business's current décor.
For storing machines or equipment, choose our single skin partitioning in full weld mesh. Featuring hinged door panels and a 2-lever locking system, it's the perfect option for keeping tools or hazardous machinery kept safely locked away.
If fully enclosed work areas are required, we also have optional sheet steel panel or grid tile ceilings available, perfect for creating a private, separate office within the workplace.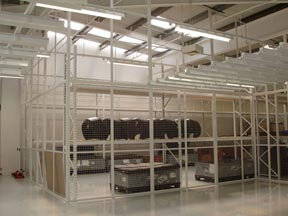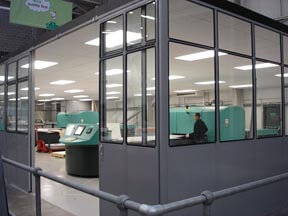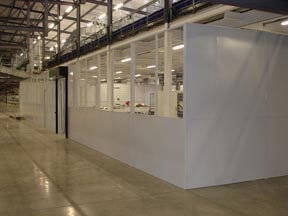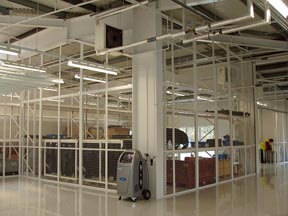 ---
Double skin partitioning
Our double skin partitioning is ideal for creating offices or areas where an element of additional sound reduction and insulation is required. Additionally, there are also options available which are fully fire rated to BS 476: part 22: 1987, making this office partitioning system perfectly suited for busy industrial areas.
Our double skin partitioning is a high-quality, integrated system that provides a smooth internal and external finish with minimal joints. It's ideal for a wide range of applications, including offices, storage, production and security areas. Plus, the clean, high-grade finish makes the system suitable for food or chemical environments.
For additional security, the office partitioning system also has a comprehensive choice of single, double and sliding doors available which are compatible with most locks and latches, including interlocks.
To ensure that your workplace maintains a clean and tidy appearance, our panels sit directly into a floor channel and have optional laminate skirting available. Our double skin partitioning panels come in a wide variety of widths and heights, and if your workplace is a difficult size, we have bespoke options available too.
Double skin partitioning is available in various vertical elevations, including:
All solid steel
Half steel, half glass
Half solid, part glass, part steel (above glass)
If an element of sound reduction and insulation is required, our Zintec steel sheets with 50mm high density Rockwool slab is ideal. And, if you need to create a more private, personalised area with your office partitioning system, we can install an optional ceiling which is available as sheet steel panels or grid tile.
Our double skin partitioning is epoxy powder coated which comes in a choice of standard colours, with other colours available on request.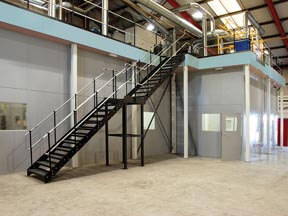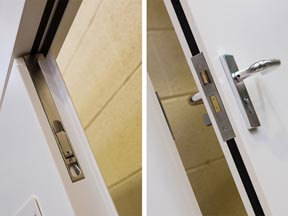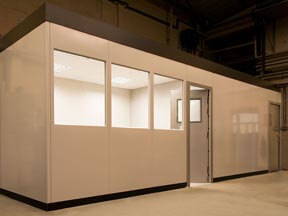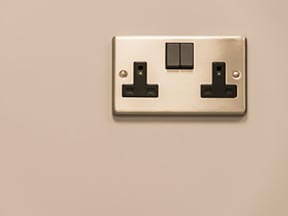 ---
Clean room partitioning
Our clean room office partitioning systems are designed specifically for creating a controlled, sterile and secure environment. Often utilised in the pharmaceutical, healthcare, engineering and technology industries, our clean room package consists of both partitioning and air handling systems.
For convenience, our RAJA Projects clean room partitioning will be tailored to your business's required level of cleanliness to ensure compliance with regulatory standards. With the correct air handling and operating procedures in place it can be used up to Federal class 100 (ISO class 5).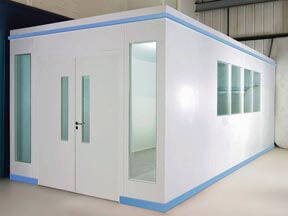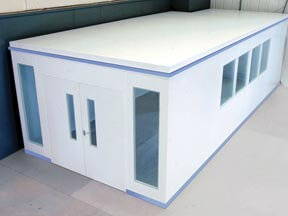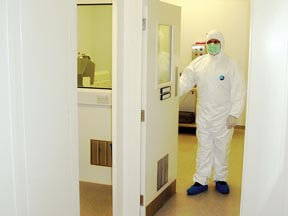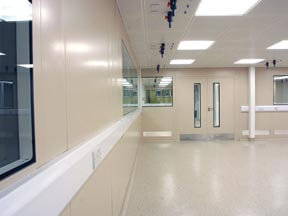 ---
High bay partitioning
Our range of high bay partitioning is ideal for use in factories or warehouses as it allows employees to make efficient use of available head space. The single skin, modular panels can span up to 15m high, and to make the area even more secure, the paneling can be profiled into a sloping roof.
High bay partitioning panel options include mesh, solid steel or part glazed and to make life easier, all are demountable for easy relocation if required. If a ceiling is needed, we have long span options available to create clears areas of up to 20m.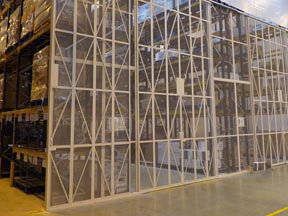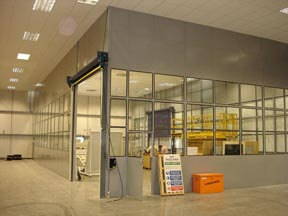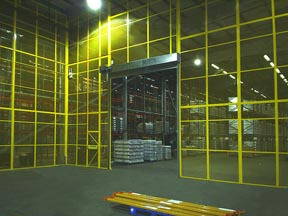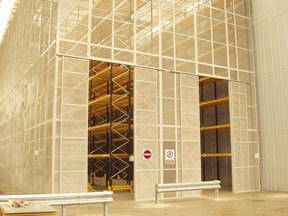 ---
Office partitioning
Office partitioning systems provide an attractive method of creating, altering or subdividing existing areas within workplaces. At RAJA Projects, we offer an extensive range of partitioning with a choice of composite, fire rated metal stud or glazed panels available in a wide selection of finishes, and fittings. Plus, if a ceiling is required, a suspended option can be fitted to create a completely enclosed office space.
Whether your business is looking to reconfigure an existing space or develop and design a brand-new working environment, we can provide you with a stylish, quality solution. Our extensive knowledge and experience promises to deliver a quality, value for money package, personalised to suit your workplace's particular requirements.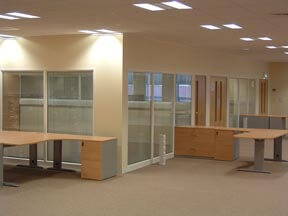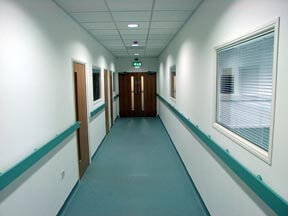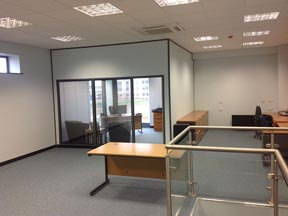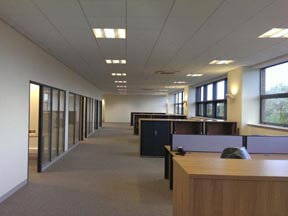 ---
Acoustic pods
Acoustic pods are a stylish, yet practical method of maintaining personal space in an open plan environment. Ensuring protection from sound and other visual distractions, our pods make ideal meeting places or private offices.
Our Aspect and Plaza acoustic pods create a contemporary and flexible alternative to traditional fixed type partitioning. Perfect as a short meeting location, nomadic working office or for use as a private chill out hub, our acoustic pods are a stylish solution with the added benefit of providing an excellent long-term investment.
Standard specification includes:
Up to 34db acoustic rating
LED lighting
PIR motion/occupancy sensor
6mm glass panels, soft open/close doors
Optional extras:
Airflow unit
Magnetic glass board
Media column with VGA and HDMI capability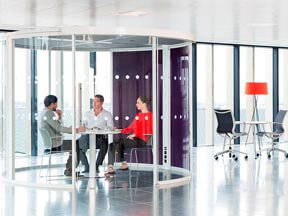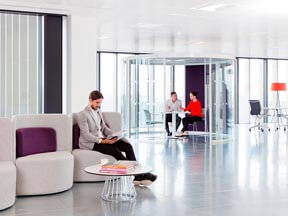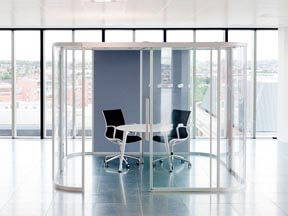 ---
Security Cage
Mesh storage cages are ideal where security is required to combat theft or provide protection for valuable equipment. They are also suitable for storing items covered by COSHH regulations, such as flammable liquids or hazardous chemicals. Our security cages also feature a roof and locking door panels and can be situation both inside and outside.
Our range of security cages comes in a wide selection of sizes and configurations and can be provided with both straight and angled runs. Additionally, a range of security features including choice of lock type and smaller mesh are available to suit your business's preferences.
For added convenience, our robust security cages are quick and easy to construct. And, they're all de-mountable and can be relocated with minimum effort.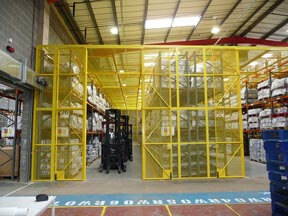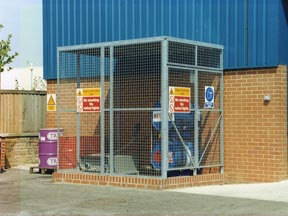 ---
Machine Guards
Designed to comply with BS.5304:1988, 'safety of machinery', RAJA Projects machine guards are perfect for the safe enclosure of equipment and appliances. A comprehensive range of single and double doors are available which can be fitted with isolating switches to automatically stop machinery when the door is opened.
To increase security in your workplace, bespoke designs are available which allows you to choose the mesh gauge. As an added benefit, our machine guards are easy to take down and relocate thanks to their simple, yet effective construction method.
---
How can we help you?
RAJA Projects offer a no obligation site survey service, carried out by one of our skilled and experienced regional technical representatives. This enables us to discuss your objectives for your office partition installation and apply our knowledge to create a proposal which best suits your needs. After your site survey, we will then provide a thorough and detailed quotation, with an appropriate layout drawing for your consideration. If you have any further queries or concerns, we are happy to return to the site as much as you need.
Want to find out more about our office partition installation service? Call us now on 0800 954 9001 to discuss your requirements and arrange a no obligation site survey.
Alternatively, if you already know what you're looking for fill out our online quote request and we'll reply back within 24 hours.
---