Maximise the storage space available in your workplace with our warehouse racking and shelving systems. When you choose RAJA Projects, you'll ensure that your storage meets all the relevant safety standards and provide you with a hard-wearing solution that you can rely on. With a huge selection of styles available which are suitable for a range of applications, our 'concept to installation projects service' can take your simple idea and turn it into a reality.
Things to consider for your racking and shelving systems
There are many things to take into consideration when choosing suitable industrial racking and shelving systems for your workplace.
Ensure that your premises are laid out correctly to provide maximise efficiency
You should then determine how much floor space you have available and consider what will work best, for example: static shelving is cost effective but requires larger floor space than mobile shelving
Think about what needs to be stored and how often it needs to be accessed, as well as the size and weight of the goods – as these will influence which shelving or racking solution will work best
If you don't think through these important steps, then there's a serious risk of numerous health and safety breaches in your workplace, including:
Falling goods – poorly stacked or overhanging goods could easily fall and potentially injure staff
Falling people – without proper access equipment, staff might be tempted to climb shelving and take unnecessary risks
Handling errors – placing heavy items in the wrong location can easily create handling risks to your staff
Poor placement hazards – storing inappropriate items together could lead to contamination or other dangers
Fire risks – improperly stored goods can block fire exits and create a flammable risk
Impact risks – poorly laid out shelving systems can lead to collisions from forklift trucks and other lifting equipment
---
What industrial racking and shelving options are available?
At RAJA Projects, we can supply and install a wide range of warehouse racking and shelving solutions which are suitable for a wealth of locations.
Warehouse Shelving
Our range of warehouse shelving is available in a wide selection of sizes and styles. It's the perfect all-rounder and is ideal for use in stockrooms, stores and factories, as well as most other storage locations. If you need an option that's straightforward to assemble, but robust enough to support up to 600kg, we also have boltless options available. And, for extra convenience, we have steel, melamine and chipboard decks – so you can choose the perfect option for the particular application.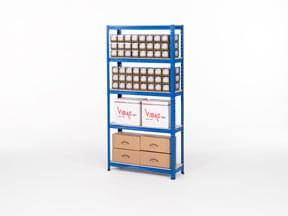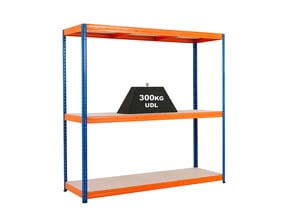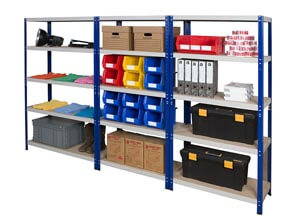 ---
Office Shelving
If you're looking for an option that's more contemporary and aesthetically pleasing in your workplace, choose our office shelving. A smart, clean look can be achieved by the clever placement of post holes or the use of end panels. This stylish finish also makes them perfectly suited to front of house applications such as for file storage or displaying your business's greatest achievements. Additionally, an assortment of dimensions is available, ensuring that our shelving systems can fit into most locations, and the modular design means that extra bays can be added if needed.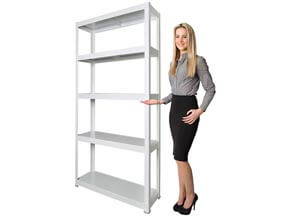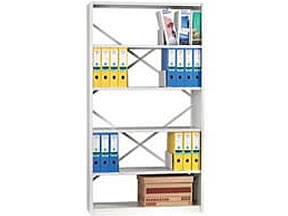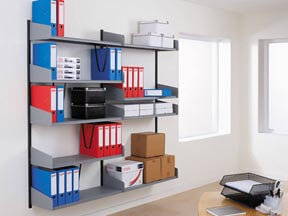 ---
Mobile Shelving
When space is at a premium, a mobile storage unit can be incredibly useful. These racking solutions take up half the floor space of a static system as they can be easily moved using ergonomic hand wheels. Their bases are designed to sit directly onto any floor surface without the need for fixing down – allowing for the unit to be relocated quickly and easily without any damage to the original floor. Furthermore, our mobile shelving systems are modular allowing for easy additions and alterations.
Our mobile shelving systems are designed to suit your business's individual requirements – our free site survey will help us establish a layout and system best suited to your particular application.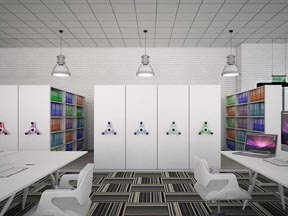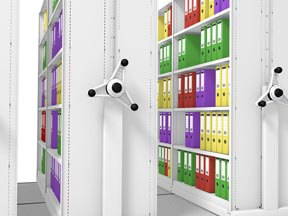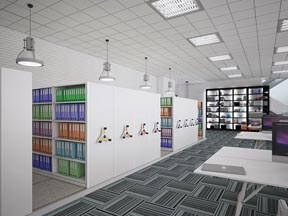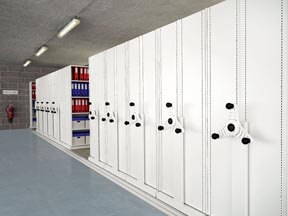 ---
Wide Access Shelving
For storing large, bulky or heavy products, our wide access warehouse shelving is ideal. The first shelf can be positioned at least 1000mm off the floor, giving plenty of space for storing heavier items such as tool sets. With a wide range of size, decking and capacity options, our wide access shelving systems are perfect for just about any environment.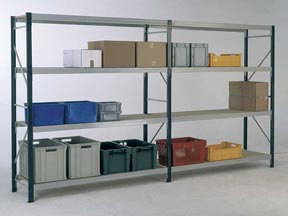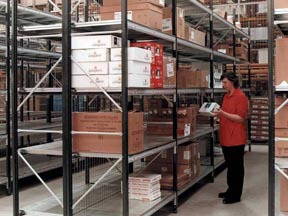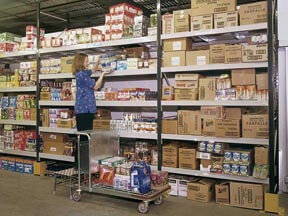 ---
Specialist Shelving
There are some environments such as kitchens, pharmaceutical laboratories and cold stores which require specialist racking solutions. At RAJA Projects, we can provide high-quality units that are suitable for a variety of applications, all of which are constructed from robust materials including plastic, chrome and zinc-plated steel. So, no matter what you need to store, RAJA Projects has a suitable racking solution to do the job.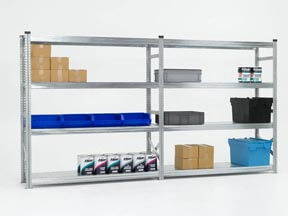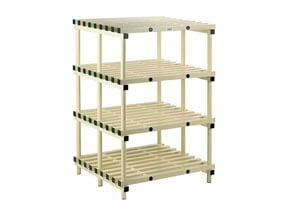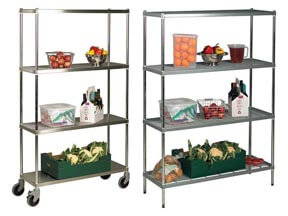 ---
Live Storage
Also known as pallet flow racking, live storage makes efficient use of the space available and helps to streamline operations in assembly, packing and dispatch areas. Each bay is fitted with a roller track which is angled at a slight gradient with the lowest end at the pick face. The angle allows for goods to be hand loaded at the higher end and then roll down to replace items as they're removed. Plus, the angle of the racks means that stock is easy to access for employees when stock picking. Our flow racking solutions are perfect for stock control as it operates on a strict first in, first out basis and they're designed to carry any size of carton which helps to minimise pick times and reduce errors.
All of our pallet flow racking solutions are extremely flexible and have adjustable shelf heights, allowing for a variety of items of different sizes to be stored. Additionally, the wheel pitch, track and guide widths are also all adjustable, so you can create the perfect bespoke storage solution for your workplace.
Pallet racking solutions
Our pallet racking comes in a wide range of sizes and capacities to accommodate any area, environment or load. It's fully compliant and conforms to the latest SEMA (UK) safety regulations and all of our installation work is SIERS approved. Alongside the racking, we also have a variety of accessories to complement your shelving system such as decking, upright protectors and anti-collapse mesh.
Bar racks and cantilever racking
If space is at a premium in your warehouse or workplace, we also have cantilever racking solutions and bar racks and cradles available. The design of this type of racking allows for goods to be stored safely off the floor, whilst also making the most use of the floor space in your workplace. They're perfect for storing items such as bars, timber, piping, planks and roofing sheets, therefore these racking solutions are best suited for use in industrial locations or building sites, where materials need to be kept safe from potential damage, yet within easy reach. Additionally, by keeping materials stored off the floor you can help to prevent potential accidents within the workplace, making our racking solutions a safe and convenient option.
All of our cantilever racking and bar racks are made from heavy-duty materials and are available as standard units, or can be fully customized depending on your requirements.
---
How can we help you?
Our shelving and racking installation service is the best way to ensure that you're getting a solution that works for you. One of our experienced technical sales representatives will visit your site on a free, no-obligation basis to assess your needs and make the appropriate proposals. Once we've found out your requirements, we will then submit plans, layouts and cost estimates for your shelving and/or racking and discuss timeframes for installation.
At RAJA Workplace we have over 70 years' experience, so when you choose us for your project design and site installation, you can rest assured that you'll be getting a high-quality solution that's built to last.
---